Technology provides us with tools to accomplish tasks that were formerly impossible. Parents that want to protect their children from improper objects and individuals that would take advantage of them. Management and businesses also want to be able to enforce regulations, monitor and evaluate employees, and ensure information security is not compromised. TTSPY provides monitoring and surveillance solutions to help you regulate information security in your home or establishment. TTSPY provides tools and technology that will provide you with security and peace of mind.
Compatible with Android and IOS
TTSPY provides software on both Android and iOS. This provides compatibility with popular mobile phone platforms available. An added benefit is that the TTSPY app does not require that you rooting or jailbreaking on either the android or the iOS. This way you can ensure that the security of your mobile device and that of your wards is not compromised. You should know that rooting and jailbreaking devices comes with the risk of losing data, wiping the software and certainty of losing your warranty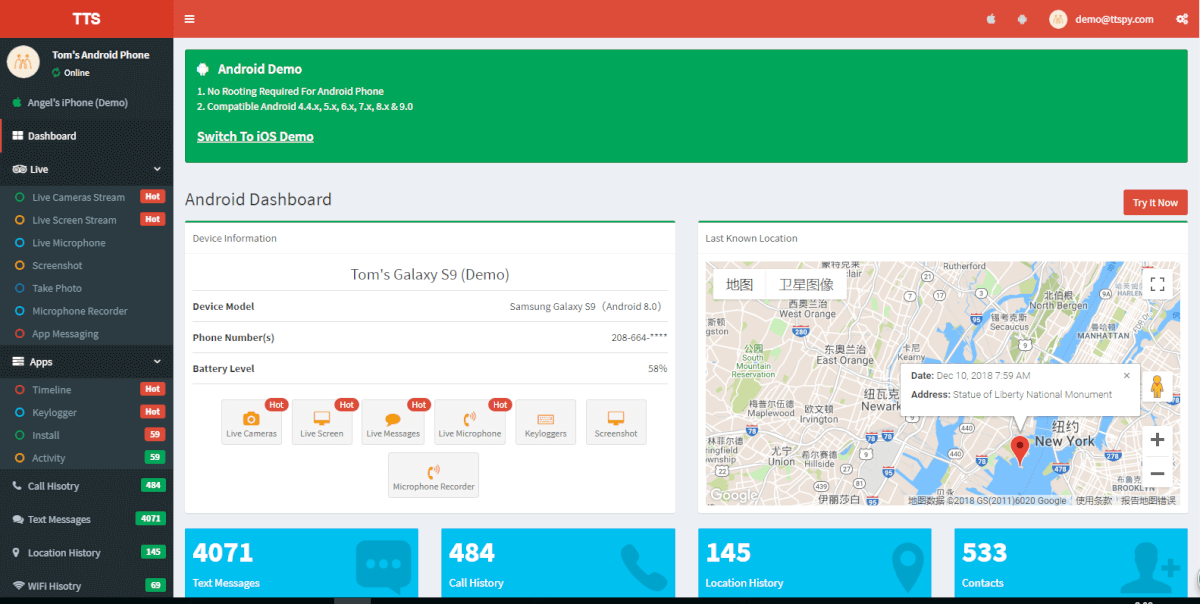 Location tracker
The location tracker is one of the most important for parents and management who want to know where their wards are. With the tracker, you can monitor the movement of your wards and ensure their safety. Management can monitor the movement of employees when they are on company time to ensure that they are making efficient use of the company's time and resources.
Live Camera Remotely
TTSPY products were primarily designed for baby monitoring. With the TTSPY you can remotely activate your wards camera enabling you to monitor them, evaluate activities, and provide assistance when needed. You may also choose to activate microphones to provide better monitoring.
Live Screen Remotely
The Live screen option works by recording everything that occurs on your ward's mobile phone. These include apps used or media that is played, the Live screen option also captures sound made by the phone. If you have enough time on your hand you can remotely monitor your ward, evaluating employee performance or providing assistance to children.
Call log Tracker
The call log is the direct go-to app for monitoring your ward's contact lists. This feature will enable management to evaluate their employees' efficiency, and detect anyone using company resources for personal tasks.
Chat Message Monitor
The message monitor like the call log will allow you to keep track of the individuals your children or employees are in contact with. The message monitor also allows you to read messages and ensure that there is a security leak.
Media Download
This TTSPY feature allows you to examine media files on your wards phone. This feature is more attractive to parents who want to ensure that their children are not exposed to improper materials, songs, videos, and pictures. This feature lets you remotely download media files to your phone.
Keylogger and Calendar Log
The keyboard will allow you to detect the use of restricted language, and passwords. The calendar log will allow you to monitor the activities of your wards, and their schedule.
App usage and Browser history
This feature allows you to monitor the number of apps on a phone and browser history. This way you can monitor the activities of your wards on the internet, and detect the use of malicious applications.